1101
« on: April 04, 2009, 03:10:41 AM »
It's funny you mention Persona. My friend just went out and bought all those games for a small fortune. I've been watching him play them, very cool games. I wish I had a playstation just so I could I play them because they look very unique.

Yeah, they are pretty fun, but the first one got what is probably the most butchered official translation ever. It's the total opposite of the third and fourth where they left in every honorific and Japanese cultural reference. They tried so hard to change it to fit a western audience that they changed the character portraits and even made one character black... yeah.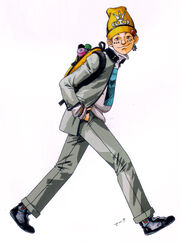 I think those changes speak for themselves...
There were actually two parts to Persona 2: Innocent Sin and Eternal Punishment, but Innocent Sin didn't get localized in the US due to the fact that Hitler was revived in it as a story point and there's apparently an option for a homosexual relationship somewhere in it. I'm playing a fan translated version of it right now on emulator and it's pretty good.
I haven't played most of the Shin Megami Tensei series, but Persona is a spinoff of it and I've heard their other games are really good as well. Especially Devil Summoner, Digital Devil Saga, and SMT: Nocturne. Most of them are pretty rare, but if you look hard enough you could probably find a few for sale at Gamestop for 30 dollars or less.