11.17.10 - FINISHED AND SHIPPING NOW!
PRICING
The price for this Femto replica is $475 + $45 shipping. Deposit is $250. PM me for details!
11.17.10 UPDATE 2
Okay, here are the lighting shots. I couldn't really take good pictures of it. It's just too dark for my camera to pick up. But you can get a sense. It's just the cavernous space, when lit up, makes for a really spooky image. It's more ghostly, and you can imagine Griffith's eyes just popping out at any given moment. Talk about a chick magnet to have around the house huh?
11.17.10 UPDATE 1
DONE AND DONE! JAMES HAS DONE IT AGAIN!!! You really need to see this in person to really appreciate it, but the paint job and colors of the helmet + base are really spot on. This is a really difficult piece to photograph, but I took these pictures in natural light to best give you an idea of what it looks like. What a nice set, ey?! (Also, on a side note, the pictures of the lighting inside the helmet is VERY HAUNTING. It's not dark in my apartment yet, so I will have to take pics of that later, but of the 3 helmets thus far, I think the lighting of this one works the best! I'll try my best to capture it on camera but it really must be seen in person!)
The packaging was great too. Given the shape of this helmet, it's very secure to ship, so those overseas buyers should fear nothing.
I really hope people out there who like what they see to get it on the project and become an owner of one of these bad boys. James poured blood sweat and other bodily fluids into these helmets, and it'll be very difficult for him to keep going if no one is taking a bite. Don't you want to see Golden Age helmets next?!?!?
Note: I just talked to James about this, and if you are a buyer and you prefer to have a glossy coating on the helmet, then James is more than willing to do that for you, at no extra charge! Everyone's happy!
11.3.10 UPDATE
New base pics!
10.29.10 UPDATE
Here are the first pics of the paintjob!!! This is just the base coat of the helmet. James said it appears lighter than the pictures show. He tried to take some pics with flash but then it looked too light. Rest assured, Aaz gave James PANTONE color codes to make sure Femto is the most accurate color. Good ol' Aaz! And keep in mind, these first few pics are very basic. No detailing, or shadowing, or anything has been done to any of the folds, edges, etc etc.
10.21.10 UPDATE
Due to this new base, the price for the replica has gone up $75 (from $400), so the total is now $475 + $45 shipping. Originally, it was just going to stand up by the back tail of the helmet. But this new face/eclipse base adds more work/paint. Deposit is $250. Hope y'all that are on the fence will jump over soon.
Also, the idea of the lighting is to have a UV black light inside the head and James will paint the inside with a UV paint that will reflect and glow. It should be pretty sweet. James reused the circle platform from SK and just smoothed it out to hold everything and he'll put the switch on the back like the Berserker and the battery underneath. Yes, all 3 helmets (Guts, SK, and this one) are level at the same height.
9.29.10 UPDATE
- Here's a video of the base, before it is smoothed!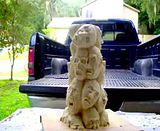 9.10.10 UPDATE
- The original concept of the base isn't going to be able to balance the helmet as originally planned, so James is sculpting a stylistic rod, like how we did with the thorns for the SK helmet, except this time it'll be a tower of faces, ala Eclipse.
7.1.10 UPDATE
- James finished the mold and is hoping to take a few preorder/deposits to help him with the initial costs of materials and so forth. Of course, there are no painted pictures of the final product yet, so most of you may not want to preorder without that, but I'm sure some of you are quite familiar with the quality of work that James has done in the past so are willing to put in a deposit right now. And of course, the sooner you put in the deposit, the sooner you will get the replica!
James is looking at 8-12 weeks to finish the first run of helmets (so still a while away), and the preorder deposit is $225. Fully refundable of course.
To place a preorder, PM me and I will give you his paypal address. Some of you might already have it from previous purchases, so feel free just to contact him directly too!
Thanks all!
PAID LIST:
1. DirectDK - Fully Paid
2. Bruhaha69 - Fully Paid
3. Turkitage - Fully Paid
4. Ckd5989 - Fully Paid
5. Incantation - Fully Paid
6. Master of the Obvious - Fully Paid
7. Indio - Deposit Paid
8. Chimaera - Fully Paid
9. Bashar - Fully Paid
YES LIST:
1. DirectDK
2. Zoliv
3. Turkitage
4. Maiku
5. Bruhaha69
6. The Beast of Darkness
7. Ckd5989
8. Chimaera
​
First pictures uploaded 6.4.10 said:

6.4.10, Here are the early progress shots of the Femto replica which we all desire and love!

James mentioned that this helmet will be raised and stand at the same height as the previous helmets, so the 3 will look like a set match made in heaven. I believe it! (He also mentioned to excuse his 2d drawing skills

)

*Note, the human face is NOT part of the helmet.

Thoughts so far?!