Hi,
I just was wondering about where to find that Book. I was in a Bookstore days ago, and they had almost the entire collection, but I didn't found nothing about the moment when Griffith resurrect and talk with "God" in the void.
Can you help me with this? http://berserk.wikia.com/wiki/Episode_83_(Manga)
The guy at the bookstore told me that If I know the Volumen or the Manga's number, to tell him and he will ask whatever to find it. It this exists, or have I to grab online pages and translate it to have mine?
If nobody knows what I'm talking about, its regarding this moment: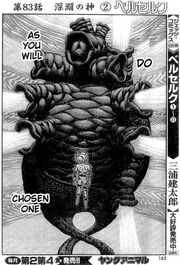 Regards