While I was looking at pictures of Femto (y'know, as you do) I noticed that on the back of his figurine he had some sort of curious shape.
Now, I know what you must be thinking:
"Eh, this is just the little designs to an action figure. What's the big deal?"
I felt that way too until I saw a panel in the manga that looked very similar:
Its small, but if you can make it out, it looks like a "V".
Very similar to: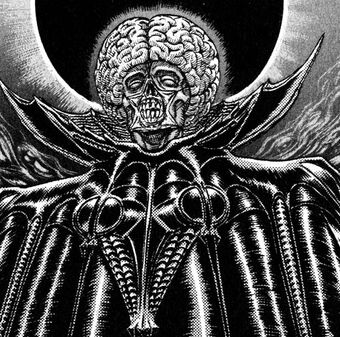 VOID. ...I apologize in advance for the pictures and I will get to my point starting now.
Since Griffith has this on his back that looks so similar to Void's own little insignia, does this mean they may be related in some way? And I don't mean like by blood. That would be...messy to say the least.
I mean that with regards to Muira stating how the goal of the Godhand ties to Void, is Femto more of a tool than we originally thought? Hmmm...
I dunno, for all I know this could just be a coincidence, but knowing Muira he wouldn't draw something like that if it didn't hold some semblance to something. What you think?