This is a casual thread where you could post about how your day went, something eventful that you managed to do, etc.
Usual crummy day at work that got a bit interesting when I hit up a Jamaican cuisine place for lunch. I often find myself ordering more than I can eat when I visit new fast food joints, and got this appetizer with Cod fish in addition to 3 other things. The Cod fish box wasn't closed properly and most of the fish oil spilled on my trousers
. Remedy - scrubbed some wet tissues on it. Then someone suggested I put powder (because of the oil stain)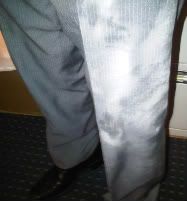 ... and I used it without noticing it was Johnson's Baby powder ... so now I smell like a baby (smelly) diaper or something.